my happy dance gift collection
---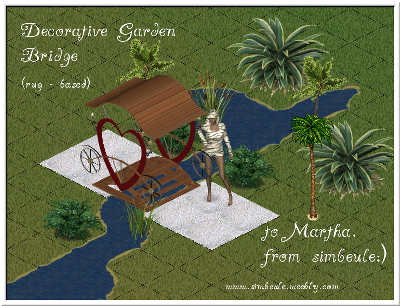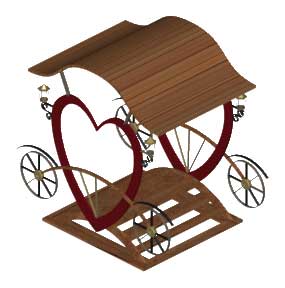 Dear Gabi Simbeule) has sent me a wonderful Valentine gift!
Das ist eine ganz wunderbare Brücke, vielen Dank, Gabriele!
Zwischen zwei solchen Herzen lässt sich jeder Abgrund sicher überqueren!
download here
---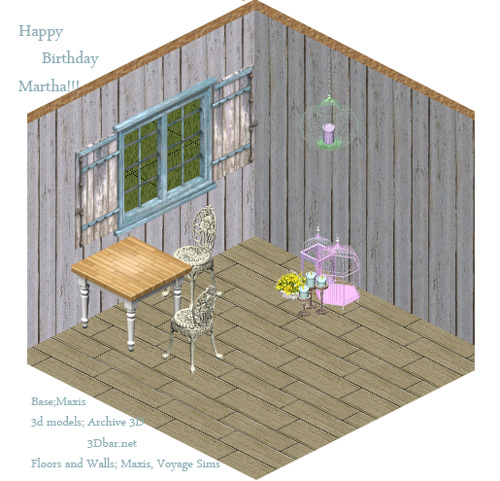 Ingrid, your lovely deco items bring spring into my Sims home!
Thank you so much -you have made me happy with your beautiful gift!
download here
don't forget to visit Ingrid Studio here
---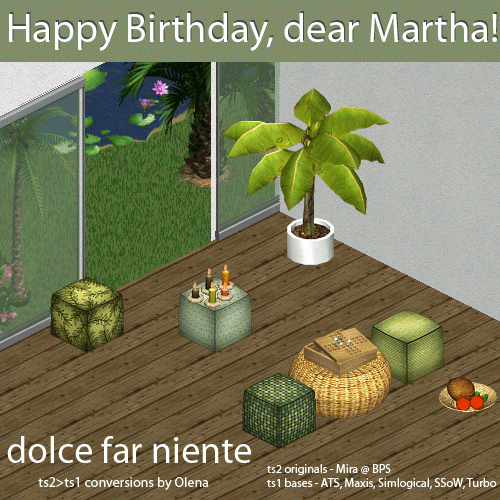 A wonderful gift with a wonderful name from a more than wonderful friend!
Thank you so much Olena for this amazing birthday gift!
found more from highly talented Olena here and here
---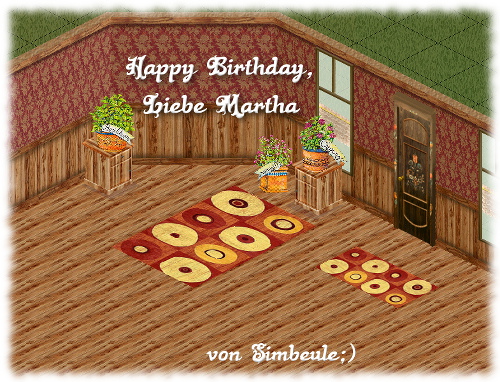 Dieses bayrische Set wärmt mein Herz und macht mich glücklich!
Vielen Dank, Gaby - Du Sonnenschein!
visit Simbeule's fabulous site here
---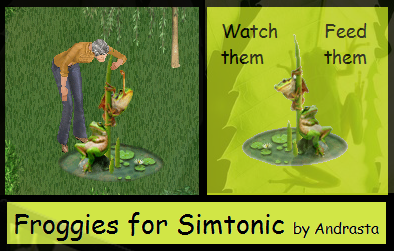 this froggy pond was a spring surprise from Andrasta at Door to More
Plenty of fun guaranteed! ich bin hingerissen, fasziniert, entzückt - kurz: im Glück!
Du bist sowas von wunderbar, Andrea!
download here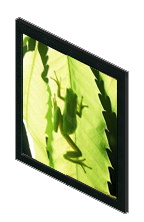 and I've got even more!
download this fabulous painting here
---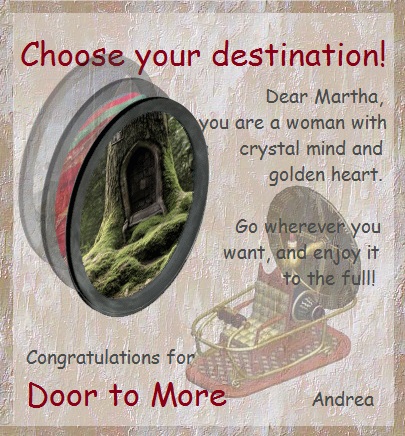 time travel windows - a fanciful gift from Andrasta at Door to More
Ich danke Dir von Herzen für dieses fabelhafte Zeitreisefenster, Du Liebe!
---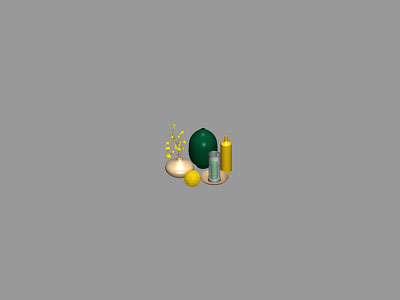 Dear Ingrid surprised me with a lovely deco set in my favorite colours
Thank you so much luv!
download the set here
---
Animal Kids: a fun project together with my wonderful friend and fabulous
creator Gabriele.
Some parts of this set are originally from Sims 3/EA store and were converted by
Amovitam's Dreamtown to Sims 2.
I have the honour to store Gabriele's part at Boudoir Blanc, find my part at her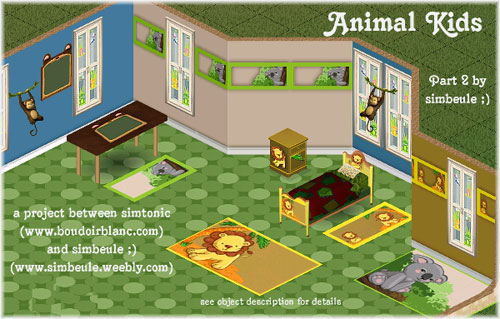 download this part here
find my part at www.simbeule.weebly.com
---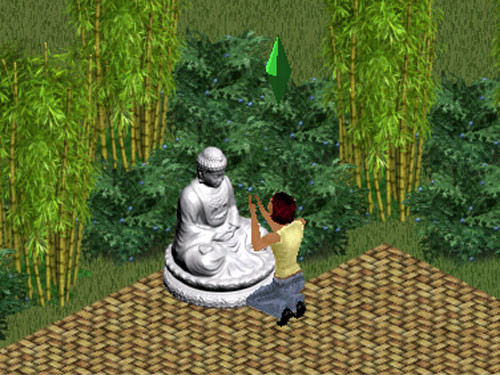 Thank you for this hacked Buddha, Piper!
---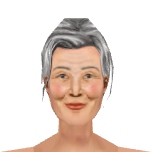 I'm a goofy - I used the fabulous Jane Goodall head that Viv
has made for my rainforest set all the time but forgot to share it!
get it here
---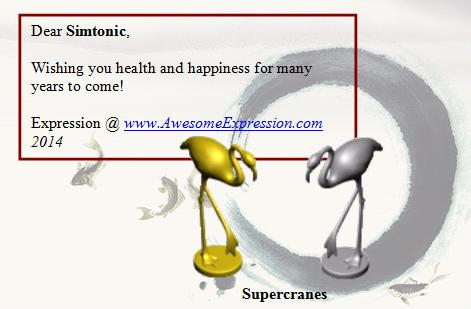 Friends are god's way of taking care of us ... thank you so much for the
fabulous sculptures, dear Ming!
download my beautiful gift here
---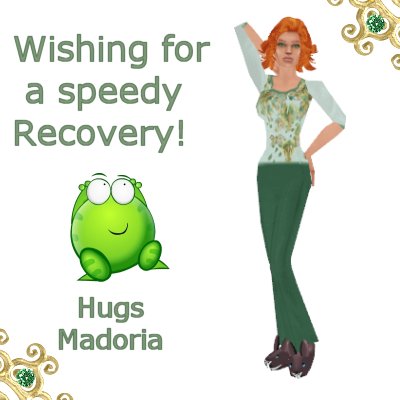 A big thank you to Susanne for her kindness and such a lovely gift!
Get the fabulous skin from a wonderful lady and friend here
---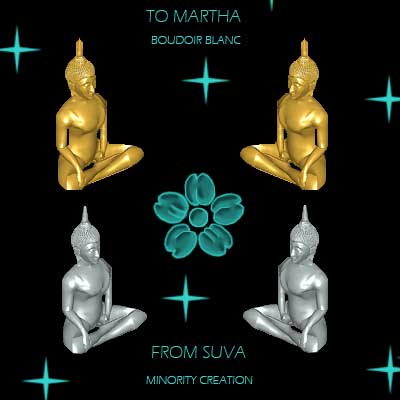 Thank you so much Suva for giving me protection from Buddha :-)
download Suvamitas beautiful gift here
enjoy a pleasurable journey to Suvamitas website Minority Creation!
---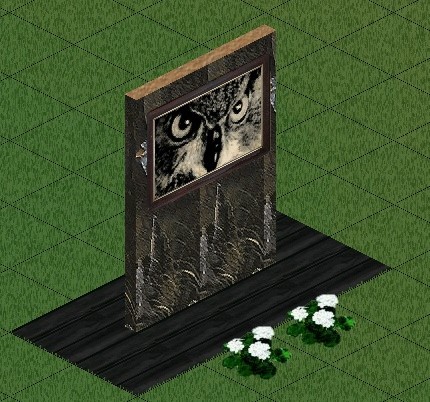 Thank you for this awsome painting, dear Jo Anne!
It has an almost magical fascination.
---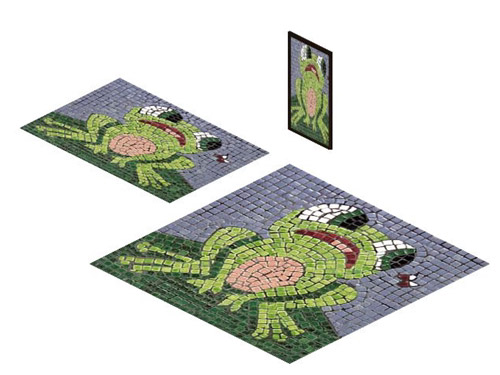 Gabi, vielen, vielen Dank für Dein Aufmunterungsgeschenk!
download the fabulous froggy mosaic set here
don't forget to visit Simbeule's Sims 1 Box!
---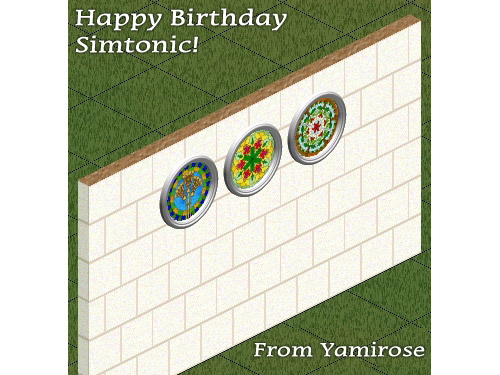 Thank you so much for this beautiful birthday surprise, dear Nicole!
You are my queen of hearts :-)
download here
visit Yamiroses fantastic website Mirrored Sims!
---
Schöner kann ein Geburtstagsgeschenk im Frühling gar nicht sein!
Hab tausend Dank, liebe Gabi, ich freue mich riesig!
---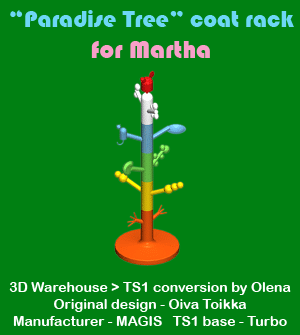 Olena brought spring into my home with this colourful coat rack!
Thank you so much luv for this adorable cheer-up!
---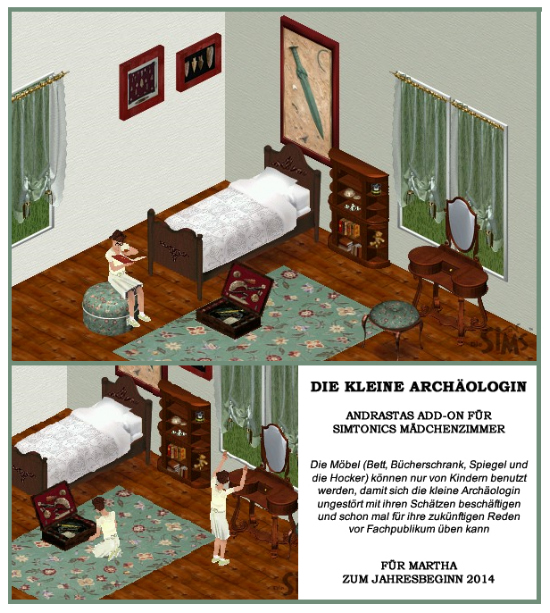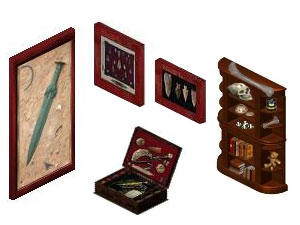 "Little Archaeologist" is a unique gift from Andrasta.
This cool set of archaelogical deco and kids only furniture will build up the
future career for a little Indiana Joanna!
The casket comes in two versions - playable and deco only!

Das ist ein großartiges Geschenk, Andrea, ganz wunderbar!
---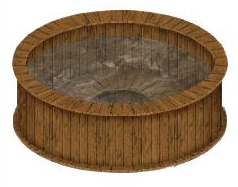 Andrasta modified the jacuzzi from Persimmon Grove to allow use for children
and also exclusive use for children (both versions included)
My little simmies and I say a heartily thank you!
download here
---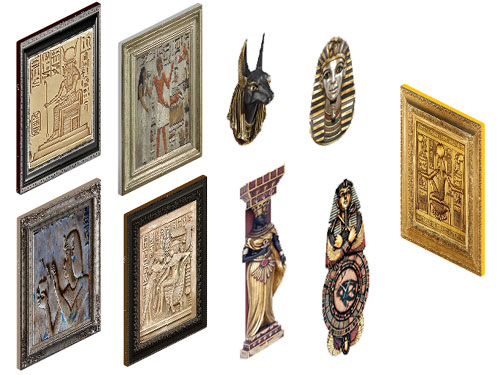 Lovely Suvamita surprised me with fabulous Egyptian paintings.
Thank you so much!
---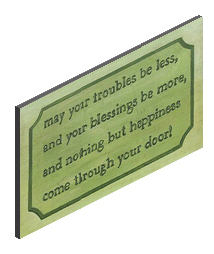 Sweet Nyx made this wonderful sign with the Irish blessing for me - thank you!

---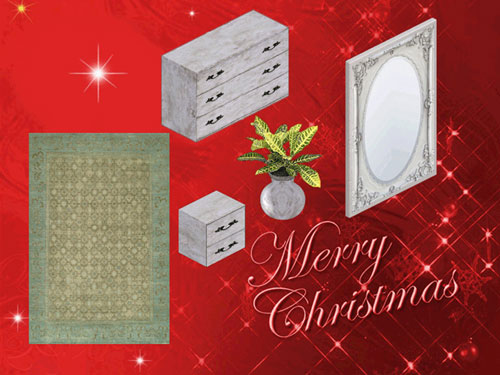 Nyx, I'm totally thrilled by this fabulous Christmas gift - I love your textures!
Thank you so much!
download this stunning set here
---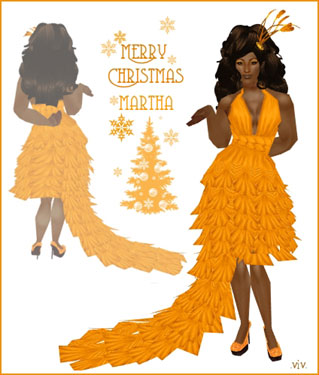 Viv's skins have all that little bit extra - and this special one is even more
than extra - saffron yellow is my favorite colour!
this skin is a dream!
many thank-you-kisses for Viv and a download link for you all!

---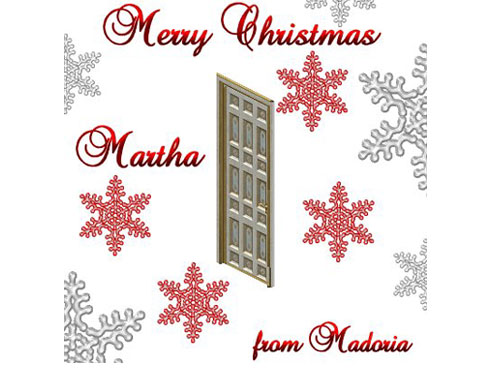 a beautiful surprise gift from Susanne - thank you so much!
download the fabulous festive door here

---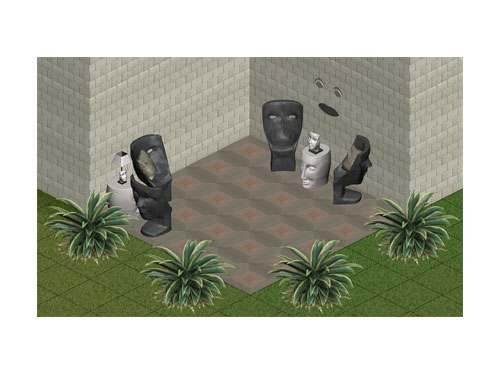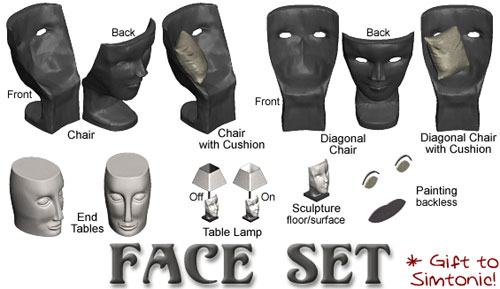 I was deeply honoured and so very happy about Poetica's gift!
Such a superb and unique set ... absolutely breathtaking!
Beverly gave her permission to share it - please download here